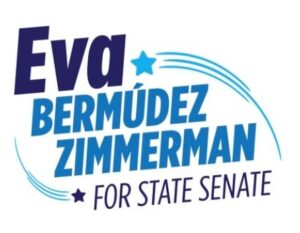 FOR IMMEDIATE RELEASE
Contact: Eva Bermúdez Zimmerman, 203-895-4403
To donate to the campaign, click here
NEW MILFORD, CT (March 9, 2022) – Eva Bermúdez Zimmerman, a long-time champion for children and families has announced her candidacy for the 30th District seat in the Connecticut State Senate. Redistricting now has Sherman in the 30th.
"I am ready to work hard for all 18 towns in the 30th District," said Zimmerman, a Democrat. "I am an organizer at heart. I love talking to people to find out what's important to them. I look forward to building coalitions among our diverse residents for smart, bottom-up policies that address our needs. And I really look forward to taking those ideas to Hartford and making our voices heard. I won't be shy."
Zimmerman is an organizer who advocates for better pay and benefits for workers. "My Dad was a teacher and my mom owned a bakery," Zimmerman said. "The challenges faced by employees and small-business owners are the challenges that shaped who I am. I have been fighting for working families my whole life. Now, when our health care is threatened by corporate hospitals, the quality of our children's education is pressured by unequal access to online learning tools, and our environment is in crisis, I will stand up for our communities and find solutions that benefit all of us."
Zimmerman has local government experience having served a term on the Newtown Legislative Council and statewide political credentials from her 2018 bid for lieutenant governor and her 2016 race for the state legislature. Her passion for public policy yields results. Eva was awarded Latina of the Year by the Connecticut State Legislature as she enrolled more than 15,000 people in the state's healthcare exchange during the first three years of the Affordable Care Act.  Zimmerman also launched "Road to Rights," a voter registration coalition of more than 60 statewide organizers to support civic education and engagement.
Zimmerman's energy and commitment to public service won praise from State Rep. Maria Horn (64th), co-chair of the Public Safety and Security Committee. "Eva Bermúdez Zimmerman has spent her career advocating for working families throughout the state and would bring passion and intelligence to representing the 30th District as our Senator. I look forward to the opportunity to work alongside her representing the Northwest Corner" said Horn.
Zimmerman had an earlier introduction to politics than most. Before age two, Zimmerman became a plaintiff in a landmark school desegregation case, Sheff v. O'Neill.  The court ruled that "The state had an affirmative obligation to provide Connecticut's school children with a substantially equal education opportunity … the Court further concluded that school districting based upon town and city boundary lines was unconstitutional."
Eva's family lived in the South End of Hartford. Her father, Pedro, is a retired k-12 teacher. He taught at schools in Hartford's North End during a time in which that community saw violence at unprecedented levels. Eva remembers losing friends to gang and drug violence that plagued Hartford during the years of her youth. Her mother, Carmen, owned and operated a local business located in New Britain, Connecticut that made wedding and sweet fifteen "Quinceanera" cakes. Later on, going back to school for a Bachelor in Education and has worked with special needs children for over 15 years.
Zimmerman attended a regional magnet school in Hartford that was set up in response to the Sheff v. O'Neill verdict. She loved learning and politics was her passion. She volunteered for the Presidential campaign of Al Gore at age 12. At age 16, Zimmerman finished high school early and was selected by Rotary International to go on a humanitarian service project that brought her to the favelas of Brazil. Having grown up in a bilingual community, Zimmerman was fluent in English and Spanish, and during her time in Brazil, she also became fluent in Portuguese. Her experience with the poor in Brazil led her to a career in public policy advocacy, where she has fought against poverty, for wider access to healthcare, and for workers' rights. She returned to Hartford eager to make a difference. Before college, she worked as a field organizer for Connecticut Public Interest Research Group (CONN-PIRG) helping reduce carbon emissions and create more environmentally sustainable policies.
Eva continued her advocacy during college, protesting the tuition cost increase of the University of Puerto Rico Interamericana, where she was a political science major. She finished her studies cum laude at the University of Puerto Rico Interamericana and was awarded a prestige's spot representing the government of Puerto Rico through the Cordova Fernos fellowship program where she was stationed with Congressman Rangel Chair of Ways and Means and Representing Harlem New York. As an aide, Eva was assigned to lead abatement, labor relations, and Puerto Rico affairs.
She has been organizing for over 13 years and is currently Director of Child Care and Field Organizing for CSEA SEIU.  She most recently received close to 80,000 votes in this year's Democratic primary.
In more recent years, Zimmerman has been a leader in CT's fight for a $15 minimum wage, a state Dreamers' bill, environmental justice, and women's rights. If elected, she intends to focus her efforts on those kitchen-table issues that affect working families — affordable healthcare, education, the environment, and economic development. "Like many of you, I am proud to call Connecticut home and even prouder of what our district has to offer," she said. "I am committed to advancing policies that benefit all the citizens here and that optimize those qualities that make the Northwest Corner so special."
###