Although the Sherman votes for the Governorship and State Senator edged ahead for the Republicans, the margin was narrower than expected based on the mix of registered voters by party line. Sherman's voting results show a strong shift towards the Democrats as reported in the Town Tribune on November 15, 2018: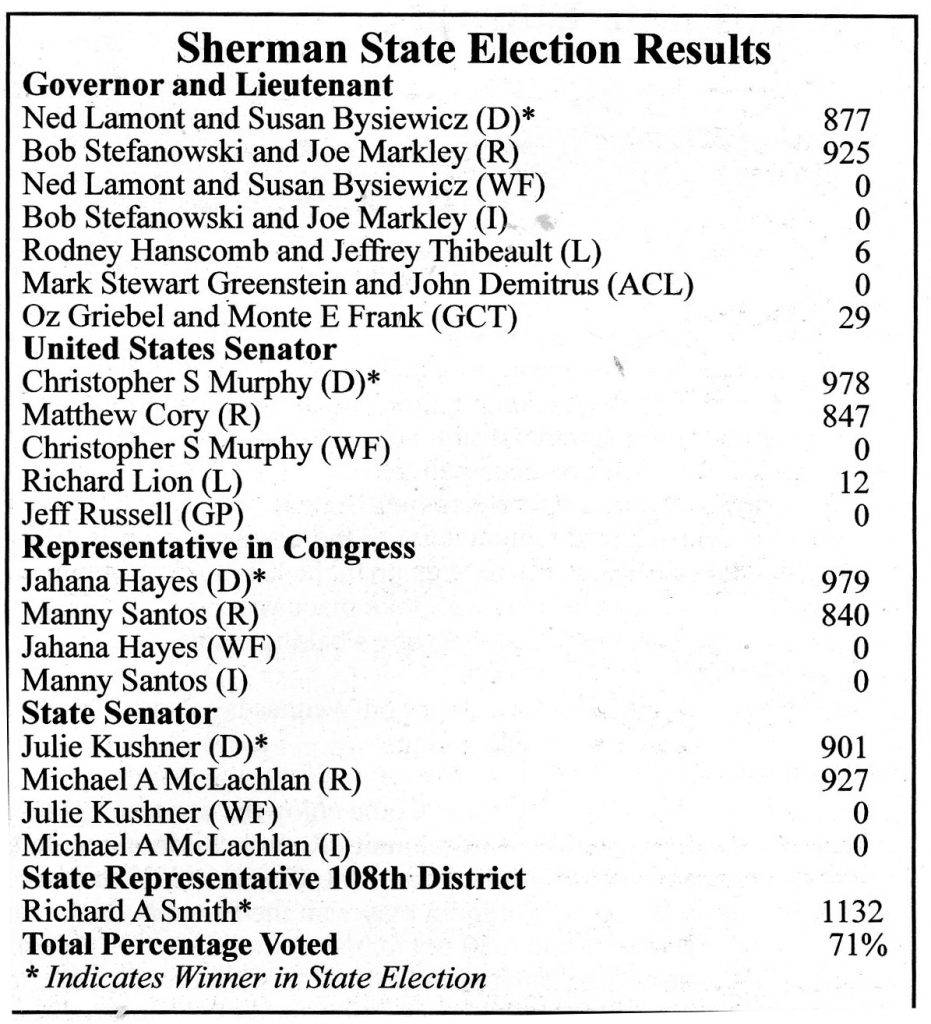 Ballotpedia identified six of the races as battlegrounds, including four Republican-held districts and two Democratic-held districts. Democrats won five of those elections, with a sixth election in a Republican-held seat remaining too close to call as of 2:15 p.m. ET on November 14, 2018.Democrats expanded their majority in the 2018 elections for the Connecticut State Senate, winning 22 seats to Republicans' 12. As of 2:15 p.m. ET on November 14, 2018, two races remained too close to call, with Democrats expected to win both.[1] Should Democrats win both uncalled races, the party would gain a supermajority.
All 36 Senate seats were up for election. At the time of the election, Democrats and Republicans each held 18 seats, now Democrats hold 20 seats and Republicans hold 11.
Heading into the election, Connecticut had been under a Democratic trifecta since 2011 when Dan Malloy (D) was sworn in as governor. Malloy's swearing-in ended a period of divided government that had lasted since Gov. Lowell Weicker (I) took office in 1991. Democrats had held majorities in both chambers of the state legislature since the 1986 state legislative elections. Had the Republican Party taken the chamber, it would have broken the Democratic trifecta.
The Connecticut State Senate was one of 87 state legislative chambers holding elections in 2018. There are 99 chambers throughout the country. The Connecticut State Senate was also one of 22 state legislative battleground chambers.
In 2019, half of House Democrats will be members of a fledgling caucus of progressives committed to reforming Connecticut's tax structure, raising the minimum wage and passing paid family and medical leave, legalizing recreational marijuana and fighting climate change. House members serve two-year terms; there are no term limits imposed on them.
Both amendments to the state consitution were passed:
Amendment 1 requires that all revenue placed in the state's Special Transportation Fund (STF) be used for transportation purposes, including the payment of transportation-related debts. (88% voted for). Six other states voted similarly in previous years.  For more info, click here
Amendment 2 requires a public hearing on bills to authorize the transfer, sale, or disposal of state-owned properties, such as state parks, forests, and conserved lands, to non-state entities and requires a two-thirds vote of the Connecticut General Assembly to authorize the transfer, sale, or disposal of land under the control of the state agriculture or environmental protection departments. (84% voted for).For more info, click here.