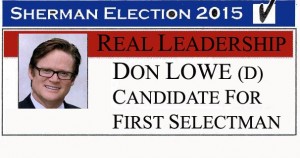 Citizen News, October 28, 2015
And A Big Thank You!
I kicked the hornet's nest when I revealed that Sherman's Operating
Budget has increased 20% in Clay Cope's four years – the largest four
year increase in Sherman's history. The operating budget funds the
mechanisms of the town, is absent of the debt service and the school
budget, and is created solely by the Board of Selectmen (BOS).
Bob Ostrosky's recent column attempts to marginalize me, claiming
that I look "too simply" at this. He ventures into expenditures and
asserts that I have not looked closely enough. I have. I have examined
many Sherman budget details. But I spotlight this topic and choose not
to deflect into other issues because it's critical to you as a taxpayer.
Here's why: Taxpayers are taxed on the budget. not the expenses. And
that Bob confesses that the town has, in reality, only spent to a 5
increase should be of interest to you. Bob's thesis is that while the BoS
budgeted for a certain amount it hasn't spent that much. Fair enough, I say. However, the taxpayer is billed for the BUDGETED amount
including this past budget (2015/16) for which we don't yet know the expenses. That such a large amount is budgeted the last four years is
something the taxpayer should stay alert to.
First, let's eliminate the implication that my numbers are wrong. They
aren't. Any Sherman resident can access them in Town Hall. Here are the
operational budget numbers per each year: 2012/13 – $3,166,504; 2013/2014-$3,456,533; 2014/15 -$3,625,862;    2015/2016 – $3, 802,792.
Second, let me say this about Bob Ostrosky. 1 like him very much on
a personal basis. I look forward to working with him, and he has my
empathy that financial matters fall into his lap since our First Selectman
is unable to speak or write on this critical topic. That's most unusual
and will return to normal if you elect me. I can guarantee that both Bob
and Eric Holub, our town treasurer, also someone I admire, will enjoy
collaborating with me to keep Sherman strong. Only the hard wall of
party politics can block our working agreeably together and that wall
will not come from me. However, Bob misrepresented me a bit in his
column and for that I will charge him a beer.
There is nothing illicitly wrong with this over-budgeting practice. In
many ways, at least to some taxpayers, it might seem prudent. It becomes philosophical. Taxpayer A may think it's perfectly fine for the BOS to over-tax because it knows best what to do with his or her money. In this case, the B0S stockpiled the extra tax revenue in a reserve fund. Taxpayer B might be slightly annoyed and wish that her BOS would budget closer to what the expenses are. In her mind, she does not want to "lend" money to the town and feels there's already enough inert money in surplus. She would rather add to her family's surplus. Taxpayer C is angry and sees the words "good management" and "surplus" splattered on campaign material and is outraged that good management merely constitutes taxing him extra to inflate accomplishments.
Here's why this is important: it educates the taxpayer. I want to
provide Sherman taxpayers the opportunity to understand where their
money goes. I would be embarrassed to preside over a 15-minute
Annual Report Town Meeting. At the October 16 meeting, our First
Selectman read from a prepared script. Before the audience could
peruse a couple pages of the Annual Report, it was over. Some folks
took pride in the speed of that. I didn't. If you elect me, I will assure
you that Town Meetings will be handled with care, offer detailed explanations and presentations, and have a thorough Q & A period.
This will be my last column before the election on Tuesday, Nov. 3. I
am so gratified by the support and well-wishes that Ashleigh Blake and
I have received. I have relished every aspect of it, but'none more than
the fruitful one-on-one conversations I have enjoyed with so many of
you! Thank you! It'll all be a memory Nov. 4 and the Sherman we love
will remain. And remember: if you have something pressing with the
town, well, you don't call the Democratic Party. You don't call the
Republican Party. You call the office of the First Selectman. And when
I pick up that phone I'll be there for you. Please feel free to contact me
for questions and concerns: dnldlw@aol.com; 860 778 3394. Thank
you for the opportunity to serve you.
Sincerely.
Don Lowe