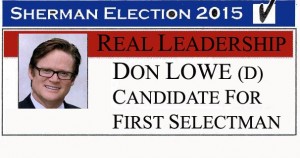 Citizen News, September 9, 2015.
I am humbled by the opportunity to serve my town again. In a town
of Sherman's size, the Board of Selectmen administers every aspect of
it. Sherman taxpayers deserve to have the board guided by a "hands-
on" First Selectman with his heart in the job, who rolls up his sleeves
and digs in – a leader who is earnestly engaged. I am that person.
That's the way I have approached every position in life, from my
success in the financial services industry and medical advocacy to my
work in academia as a college professor.
One of the most fulfilling jobs I ever had was serving Sherman as
Selectman from 2004 through 2008 and I wished I could have
continued. However. I decided against running a third term in order to
devote necessary time to my growing family. Now that my children are
older, I am able to dedicate myself full-time to Sherman as its First
Selectman.
Along with many other people who give a lot of themselves to this
town, 1 count myself lucky to have a history of working for Sherman.
Because I wanted to be fully informed on the issues concerning
Shemian, as Selectman I attended immeasurable hours of Sherman
boards and commission meetings. Previous to this. I had the privilege
to earn a seat on Sherman '5 Planning and Zoning Board, and later,
after helping form it, I served as chairman of Sherman '3 Land
Acquisition Fund. Presently. I enjoy helping out as a board member of
the Sherman Higher Education Fund and The Sherman Chamber
Ensemble Board. For me, the best part of all service to Sherman is
meeting and working with other people. Even when philosophies differ,
there is mending in doing the work and getting the job done. When my
family and I moved here 16 years ago, I found this spirit of community
as the most impressive and striking characteristic of Sherman.
In subsequent columns. political gatherings. the public debate. and
any time you ask me, I will be specific about major issues here in
Sherman, especially our finances. I will also explain my views on
bettering town maintenance, creating a stronger relationship between
the school and the Board of Selectmen, assisting the merchant and
tradesmen, improving cell service and enhancing emergency services,
helping our seniors. caring for our natural resources, and protecting
Candlewood Lake. In addition, I will let you know how I will bring
transparency and effectiveness to the office of First Selectman.
Meanwhile, let me introduce myself. I grew up on a farm along the
Northern Pacific train tracks a mile east of McHenry, North
Dakota. Much of what I miss about my rural upbringing is cheered by
Sherman's small town appeal. I hold a Master's Degree in Professional
Writing and a Bachelor's Degree in Theater and Speech with minors in
communication and journalism. I have many interests and they include
most sports, songwriting, theater, fishing, hunting, hiking, and my
greatest interest: my family. My wife of 26 years is Mary Ann Lamb, 3
professional dancer and choreographer. I have three children – David,
28, Connor, 2], and Rose 12 – all who attended Sherman School.
Please feel free to call or email me with regard to Sherman related
issues. My email is: dnldlw@aol.com: cell phone: 860 778 3394; home
phone: 860 350 4115.