THE SHERMAN DEMOCRATIC TOWN COMMITTEE
MEET and GREET
Democratic Party Candidates
JAHANA HAYES (U.S. Congress)
and
JULIE KUSHNER (State Senate)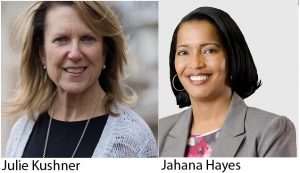 The Sherman Democratic Town Committee is sponsoring a Meet and Greet with Jahana Hayes, the Party's candidate for Congress from the Fifth Congressional District and Julie Kushner, the Party's candidate for State Senate from the 24th State Senate District.
The event will be held at the Jewish Community Center in Sherman, 9 Route 39 North, Sherman, CT 06784, from 7:00-8:30PM on Sunday, October 28.
The candidates will make brief presentations, and answer questions.
Refreshments served.