Town Tribune Ad Oct 28, 2021.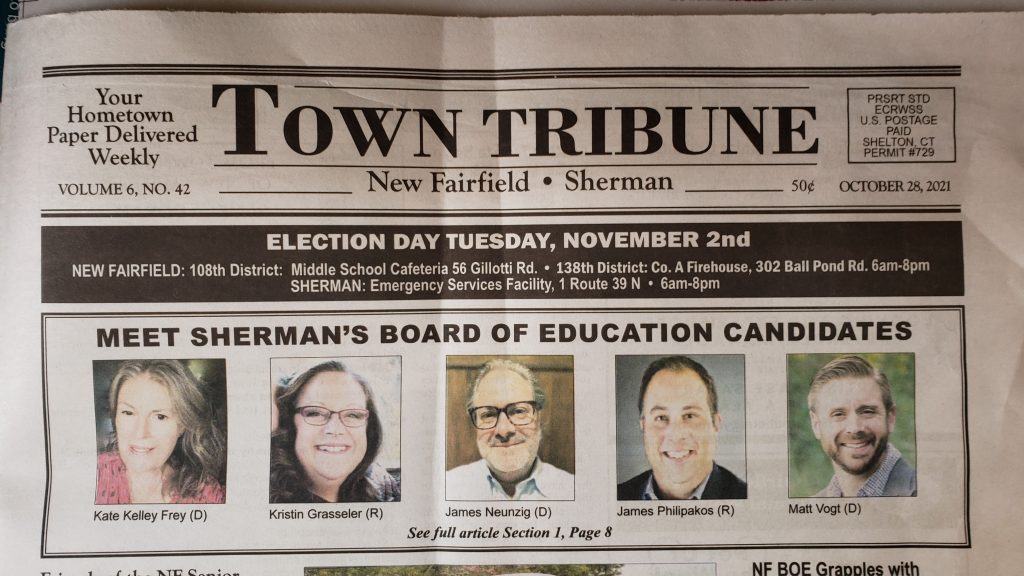 Kate Kelley Frey (D)
Kate Kelley Frey seeks a position on the Board of Education. Kate is an elementary school teacher with 33 years of experience in public education and this would be her first run at an elective office. She hopes "To volunteer my time and give back to a town that has supported and given so much to me personally, and to my family over many years." She also said. "My expertise in curriculum design and best practices would fill a practical need currently existing on the Board of Education (BOE). Running for a seat on the BOE is a stroke of good fortune: to have the special abilities to give back and a strong sense of indebtedness to Sherman."
Kristin Grasseler(R)
Kristin Grasseler has 20 years of experience in the relocation industry with expertise in customer service, employee management, home sale, global mobility, and executive-level support She has board experience with the Ostomy Awareness Foundation and the Greater Danbury Irish Cultural Foundation. Kristin says that she has made many wonderful friends in the community over the years and hopes to be able to serve and support the families of Sherman.
Her goals are to: inspire transparency and collaboration among the board and the community; ensure that children can thrive in a safe and inclusive environment, and encourage common sense and mindfulness as Sherman tackles the maintenance of The Sherman School building.
James Neunzig (D)
James Neunzig has served on the BOE for the past four years and was recently appointed Chair, lie now seeks a second term. The owner of J.P. Gifford Market. Giffords Catering, and JP Gifford Cafe. James says that "Having served [on] the BOE for the previous four years, I am eager to continue the momentum of that work." He went on to say that "My style is to work in partnership with parents, other citizens. and town leaders to address the important issues [that are] meaningful to the Sherman community. Investing our tax dollars wisely towards the best school experience for not only the near-term but also for the future is essential to me."
James Philipakos (R)
James Philipakos works in the banking industry as a mortgage originator and has served on several boards and committees, including the Regional YMCA's 11 nance Committee and the Northem Fairfield County Association of Realtors (NFCAR).  James has also participated in many town efforts, such as the Senior Housing Commission and a separate committee set up to investigate senior tax incentives. He says that his goals for service on the BOE are very simple, "I will communicate with our community and town officials as best as I can; I will make decisions that I believe are in the best interest of the children, I will keep an open mind, and I will respect others."
Matt Vogt (D)
Matt Vogt has served on the BOE for the previous two years and now seeks a full term. As a small business owner, he says that he will continue to bring "my experience in operations and budgeting, with an understanding of the balance needed between the financial requirements of operating the school district and the realities of its existence within the framework of such a small town.  A lifelong resident of Sherman with young children in the school. Matt says  "I also feel an acute responsibility to maintain this highly valuable center of our community for our town and for the future generations of Sherman School students to come."