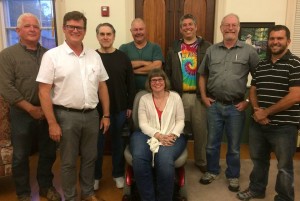 The Sherman Democratic Town Committee caucus was held on July 24th. The slate of candidates proposed for municipal office by the Nominating Committee was unanimously accepted with Selectman Don Lowe running for First Selectman and Kevin Keenan running for Selectman.
Don Lowe has served as Selectman since 2016, and was previously elected to the Board of Selectman for two terms from 2004 to 2008. He served on Planning and Zoning from 2000 to 2003, was the first (and current) chairman of the Land Acquisition Fund Board, served on the Sherman Higher Education Fund Board for 15 years, and has been on the Chamber Ensemble Board since 2009. In addition to serving the town as Selectman, Don is currently the administrative coordinator for an eduction program sponsored by IBM for high-risk high school students who take college courses through P-Tech at Orange County Community College. He also teaches English as an adjunct professor at Naugatuck Valley Community College.
Kevin Keenan has lived in Sherman since 1989, and is the sole proprietor of Southview Builders. Kevin has a Master's degree in City and Regional Planning, and served on the Sherman Board of Education for over ten years.
To contact the campaign, email:
 The complete slate includes:
Don Lowe, First Selectman
Kevin Keenan, Selectman

Board of Education
James Neunzig, David Silvay

Planning & Zoning Commission
Neil Volkmer, Ryan Peburn

Planning & Zoning Alternate
Jerrold Siegel

Board of Assessment Appeals

Zoning Board of Appeals 2018
Kenric Gubner

Constables
Joe Keneally, Ken Knipple, Ernie Dech