Don Lowe seeks his third term as First Selectman. He runs unopposed. He is well qualified!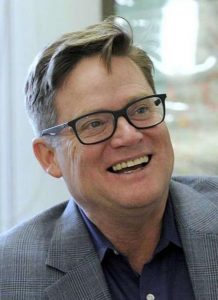 Don has served as Sherman's First Selectman since January 1, 2018.
Prior to that, he was a Selectman from 2015-17 and also a Selectman from 2003-08. Other boards and commissions: Planning and Zoning (2000-02); Land Acquisition Fund –chairman (2005 – present); Sherman Higher Education Fund Board (2000 – present).
Don has been an active volunteer on many fronts in Sherman including land conservation, Senior citizens, arts and entertainment, adult education, the library, the Historical Society, and the Weed Warriors.
Prior to becoming First Selectman, Don worked in an administrative position for Orange County Community College and he taught English, writing, communications, and public speaking as an adjunct professor at several colleges.
He also enjoys a quaint regional career as a singer/songwriter and can be seen performing in many local and regional venues. Originally from North Dakota, Don has lived in Sherman since 1999 and is married to Broadway dancer, Mary Ann Lamb. They have 3 children, David (34), Connor (27), and Rose (18).